The US Human Rights Network is a national network of organizations and individuals working to strengthen a human rights movement and culture within the United States, that is led by the people most directly impacted by human rights violations.
Take Action
The Ferguson Action Team asks you to take action this Saturday, May 2, for Black Spring.
The eyes of the world are on Baltimore right now. Again, working class young black people are coming together to speak truth to power. This fearless dedication to fighting for our rights is the backbone of our movement. Winter is over. It's time for #BlackSpring.
CSW59/Beijing+20 (2015)
The fifty-ninth session of the Commission on the Status of Women will take place at United Nations Headquarters in New York from 9 to 20 March 2015. Representatives of Member States , UN entities, and ECOSOC-accredited non-governmental organizations (NGOs) from all regions of the world attend the session.
USHRN Campaigns and Programs


The 125th session of the Human Rights Committee will take place in Geneva, Palais Wilson, from 4 to 29 March 2019.


24th Session of the Working Group, 25-29 March 2019: Data for Racial Justice

This exhibition asks: How can art urge accountability for human rights in ways that the law—linked with state violence—cannot?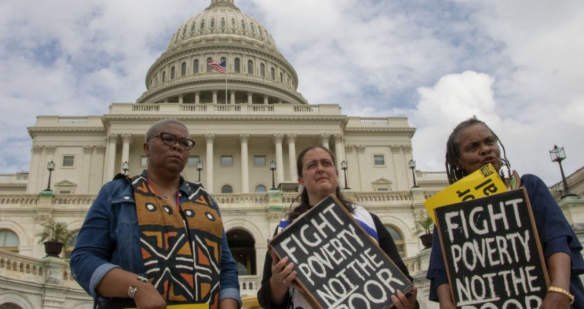 Bringing Human Rights Home Lawyers' Network, Co-sponsored by USHRN
Join the USHRN!
Are you a Human Rights Defender?
Join the US Human Rights Network to find out more about using human rights to fight for justice.
Latest News from the USHRN (View all News)
Chief Caleen Sisk of the Winnemem Wintu tribe of Northern California, and Pua Case, Program Coordinator for Mauna Kea Education and Awareness of Hawaiʻi, presented on the human rights violations connected to the proposed construction of a 18-story observatory on Mauna Kea, a mountain sacred to indigenous Hawaiians.
[More]
Composed by the Network's member delegation to the sixty-third session of the Commission on the Status of Women.
[More]
Last week, USHRN attended the sixty-third session of the United Nations' Commission on the Status of Women (CSW) in New York City.
[More]
If you are a US Human Right Network member considering or planning to attend the Forum, please fill out the USHRN Member UNPFII 2019 Questionnaire by 26 March 2019, as this will assist USHRN in planning further opportunities for engagement during the 18th session.
[More]
Interactive dialogue on the focus area: 'Women and girls of African descent'
[More]
High-level interactive dialogue: 'Accelerating implementation of the Beijing Declaration and Platform for Action: towards Beijing +25.'
[More]