The US Human Rights Network is a national network of organizations and individuals working to strengthen a human rights movement and culture within the United States, that is led by the people most directly impacted by human rights violations.
Take Action
Submit your issues for the US government's periodic report to the ICCPR. Deadline: January 14, 2019.
Overview: The following is a suggested template for U.S. Civil Society submissions to the UN Working Group of Experts on People of African Descent[UNWGEPAD or Working Group].
A Template to Submit Information to the UN Working Group of Experts on People of African Descent
USHRN Campaigns and Programs


National holiday

The International Day for the Elimination of Racial Discrimination is observed annually on 21 March. On that day, in 1960, police opened fire and killed 69 people at a peaceful demonstration in Sharpeville, South Africa, against the apartheid "pass laws".
Join the USHRN!
Are you a Human Rights Defender?
Join the US Human Rights Network to find out more about using human rights to fight for justice.
Latest News from the USHRN (View all News)
We are excited to announce our 2018 FIHRE Fellows for the summer 2018 cohort of Fighting Injustice with Human Rights Education (FIHRE)!
[More]
US Human Rights Network is excited to announce three dynamic speakers delivering Keynote Addresses during the7th Biennial National Convening: Advancing Human Rights 2017.

[More]
During the 7th Biennial National Convening: Advancing Human Rights 2017, USHRN honored 9 recipients for the Human Rights Movement Builders Award.
[More]
My work in the human rights sector, while pruned by academia, was catalyzed by crisis. Twelve years ago, Hurricane Katrina ravaged the Gulf Coast and in the time since, I have been directly involved in the fight for the human right to return and recover. Our thoughts and prayers go out to our family, friends and allies facing crisis in South Texas and South Louisiana as Hurricane Harvey completes his path.
[More]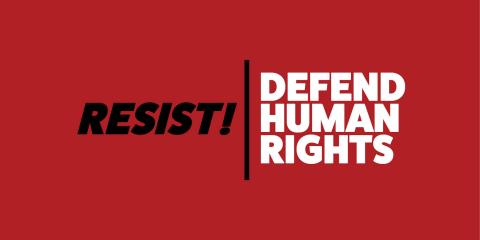 Atlanta, GA - Last week, President Trump pardoned former Arizona Sheriff, Joe Arpaio, who was convicted for criminal contempt for disobeying a federal court judge's order to stop the unconstitutional practice of imprisoning individuals based solely on suspicion about their immigration status.
[More]
Atlanta, GA -- Senator Cory Booker (D-NJ) will visit advocates and community leaders in the Gulf South this weekend to gain a deeper understanding of the southern movements for environmental justice and the impact that climate change is having on the region, its infrastructure and citizens.
[More]